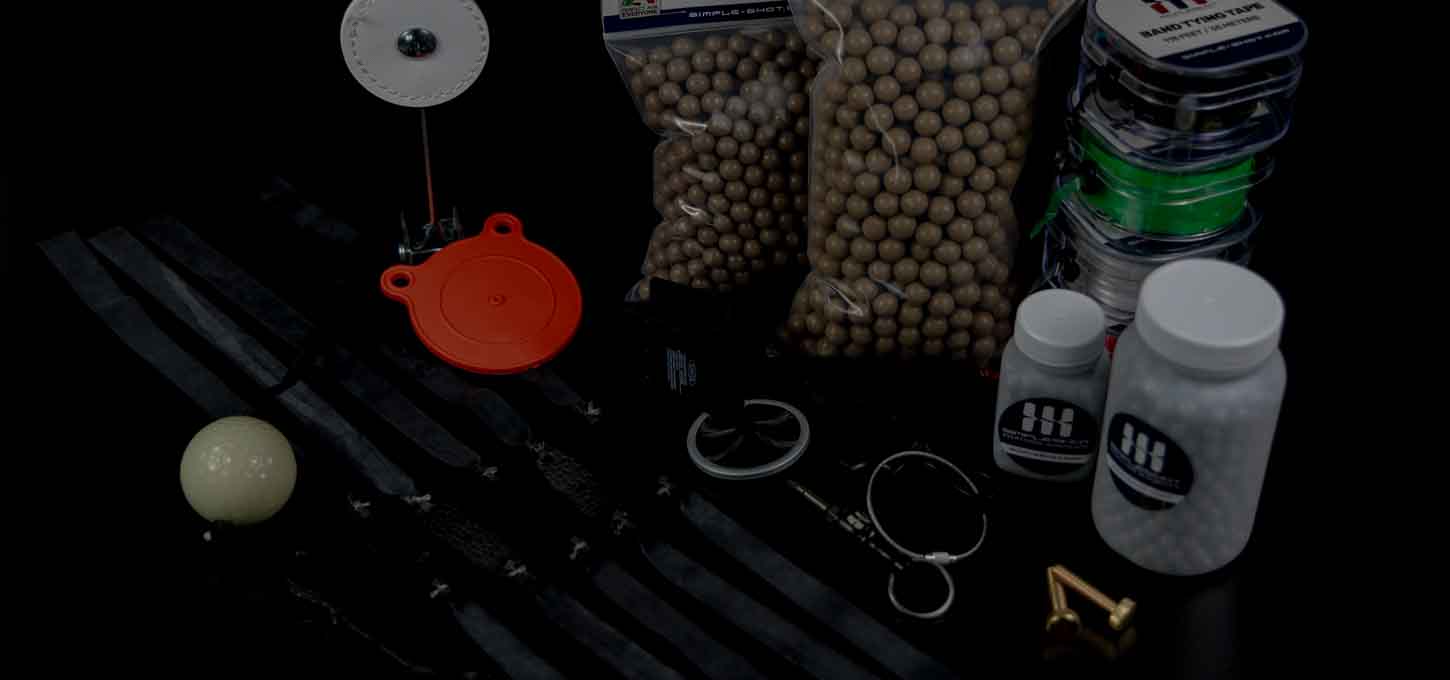 All Accessories
Slingshot bands, ammo, and everything else you need to accessorize your slingshots.
Featured
Best selling
Alphabetically, A-Z
Alphabetically, Z-A
Price, low to high
Price, high to low
Date, old to new
Date, new to old
Sort by
Featured

Best selling

Alphabetically, A-Z

Alphabetically, Z-A

Price, low to high

Price, high to low

Date, old to new

Date, new to old
SimpleShot Slingshot Accessories
Elevate your slingshot shooting skills and take your aim to new heights with our impressive range of slingshot accessories!
First, let's dive into the world of Slingshot Ammo. Our extensive selection of precision-engineered ammunition guarantees unparalleled accuracy and confidence with every single shot. Whether you prefer the classic steel balls or the environmentally-friendly biodegradable alternatives, we have the perfect ammo to cater to your specific needs and preferences. Explore our wide range of options and elevate your slingshot experience to a whole new level of precision and satisfaction.
Introducing Slingshot Bands, the ultimate accessory for slingshot enthusiasts. These powerful bands are designed to deliver maximum velocity and power, propelling your shots to new heights. With Slingshot Bands, you can customize the taper and thickness to achieve the optimal balance of speed and longevity, ensuring that every shot hits its mark with precision. Say goodbye to mediocre shots and elevate your slingshot game with Slingshot Bands. Get ready to experience the thrill of unparalleled performance and take your slingshot skills to the next level with our durable, fast-retracting slingshot band sets.
Enhance your shooting accuracy and take your skills to the next level with our durable and highly visible Slingshot Targets. These high-quality targets are designed to withstand the toughest shots, allowing you to track your progress and identify specific areas for improvement. Challenge yourself to hit the bullseye and witness your precision skills soar to new heights. Whether you're a beginner or an experienced shooter, our Slingshot Targets are the perfect tool to elevate your shooting game.
Safety is our priority, which is why we offer Slingshot Safety gear to keep you protected during shooting sessions. Always ensure that you wear proper eye protection whenever you are using a slingshot. It is crucial for your safety and well-being.
Enhance your shooting setup with our range of Slingshot Gear, including pouches, cases, and more. Stay organized and ready for action with our high-quality gear.
For customization, we offer Band Attachments and Hammer Accessories to fine-tune your slingshot for optimal performance. From FlipClip X™ to Ocularis™ to band tying tape for wrap and tuck, we've got you covered..
Upgrade your slingshot arsenal today with SimpleShot's exceptional range of accessories! Experience precision, power, and style.